THE GUARDIANS Chapter 15: Dark Wings Part 2 (NEW CHARACTER PIC!)
by pensword
in a secret bunker finishing the Guardians
For my birthday in a few days (August 29!) I'm going to be posting an extra-long chapter. Stay tuned!
CHAPTER 15: DARK WINGS PART 1
Shane Corvo (The Predator)
CC appreciated!!
"What the-," Brandon exclaimed, an orb of darkness burning to life in his palm. It twitched expectantly, like it was hungry to shoot forth and deal harm.
The girl stood up from the open metallic pod. Her stormy blue eyes seemed to crackle with dark clouds bringing lightning, but there was no emotion on her face. Her blonde hair was tousled messily over her head and the back was tied into a short ponytail. Wow, she was pretty cute.
What? I asked myself in surprise. Seriously? She probably was here to kill us and I was too busy noticing how she wasn't ugly. I was the Predator. I was above that. I sighed, getting myself back into the game.
Suddenly her folded wings roared open to full length, sending a blast of air waving over Brandon and I. Together, both of her sleek black wings made an over ten foot wingspan.
"We meet all the weirdos in this job," I muttered.
"Of course, you an I aren't that normal either," Brandon retorted. He raised his outretched palm with the angry sphere of shadow toward the girl, and it spun to life and whizzed directly toward her.
Then, in a blur of golden light, the sphere decintegrated from existence. Glowing golden tendrils snaked out of the girl's wrists like living ropes less than half an inch thick had slashed through it and reduced it to a puff of dissapating smoke.
They wound and curled slightly like liquid gold serpents made out of lightning bolts. One slid over the ground, scalding and melting through a chunk of rubble with an air of effortlessness.
Then the girl's wings flapped twice, two powerful yet graceful thrashing movements that propelled her a few feet above the ground. The wings churned more gently, keeping her hovering in the air. And then she closed in for the attack.
Her energy lashes whipped out at Brandon and I like bullwhips. Brandon shot a quick blast of darkness that knocked one of the tendrils away from his head. But the girl didn't stumble, continuing her attack like it was the only thing she knew how to do.
An energy whip managed to slash me across the face, blinding pain erupting and searing across my face.
"Arggh!" I muttered, clutching my face in agony. In a second I had shut it down at the neurological level, but when I opened my eyes, yet all was black, like suddenly someone had turned out the sun. I had been blinded. The sounds of Brandon and the girl fighting nearby seemed to be coming from black mist that surrounded me, that seemed to be choking and smothering me. Panic flooded me. Could I even heal my eyes? I cursed in anger. Even if this girl was cute, that wasn't going to stop me from dishing out the pain.
I could already feel the steaming, jagged slices on my face closing and my eyes healingu. I blinked as the lights of the world swooped back into focus, still fuzzy and blurry but soon gaining clarity and color to my immense relief. Not many people could restore their sight after permanent blindness, but I was one of those who could.
"Of all the guys you could try to blind, you just picked the worst," I snarled, whipping up my flare gun with my right arm to aim it at her and firing it the instant it swung into position. A volley of smoke burst out of the gun as the sizzling projectile hissed out.
It was dead on target, but with one slash on an energy whip almost too fast for my eyes to follow, the flare fell to the ground in two pieces, burned through at the middle.
Nightingale (Mikayla Veris)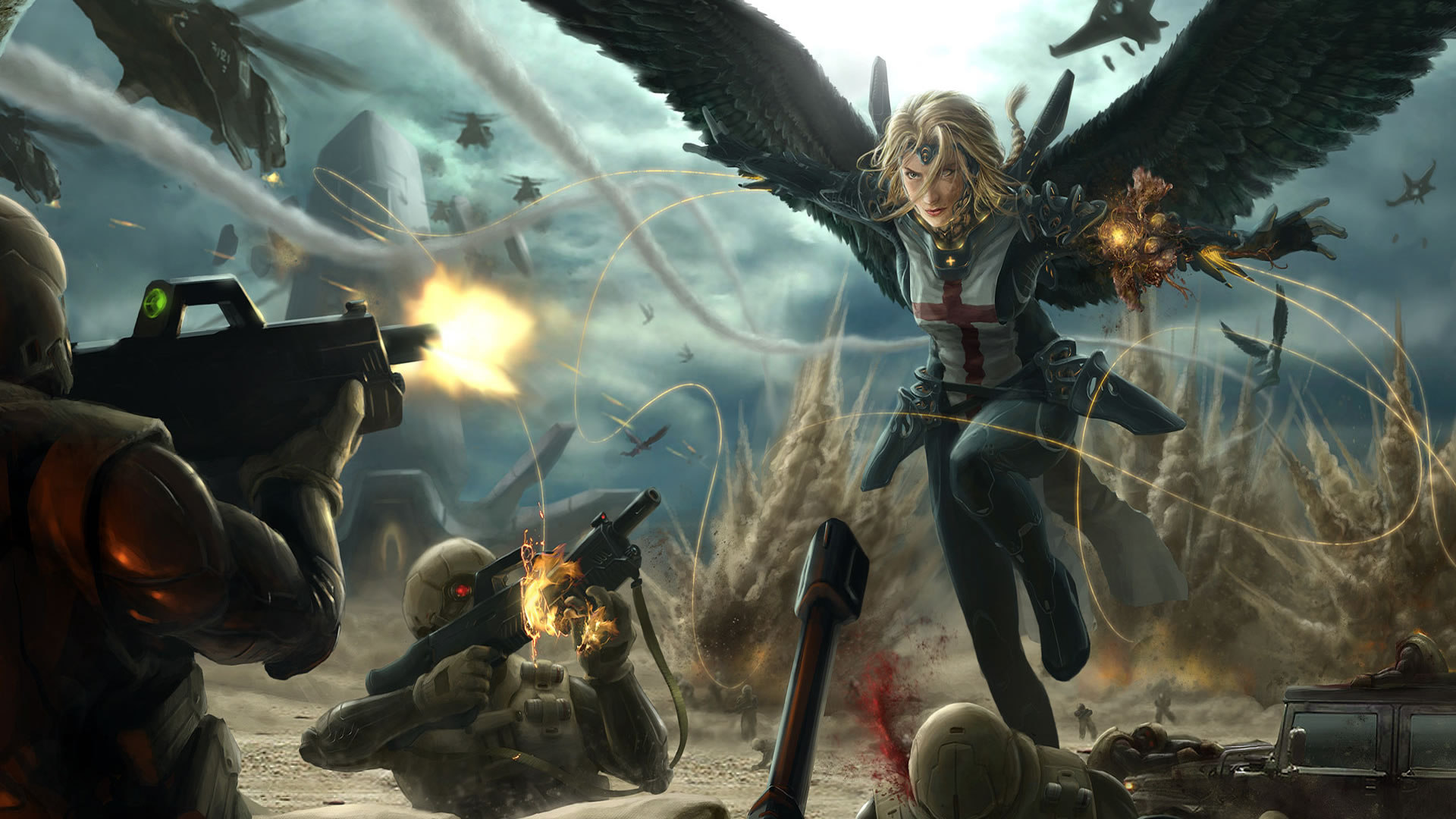 See
more stories by pensword
KidPub Authors Club members can post their own stories, comment on stories they've read, play on KidMud, enter our contests, and more! Want to join in on the fun? Joining is easy!
CLICK HERE TO GET STARTED!